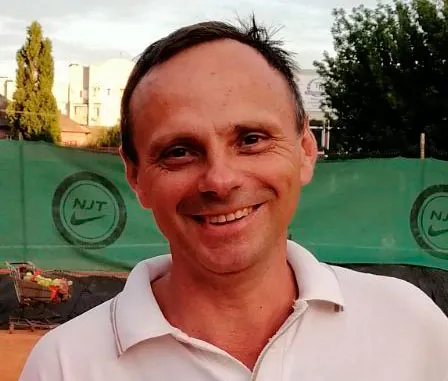 Welcome to my website! My name is Hennadiy Maloyvan – I am a professional tennis and sports psychology coach.
On the main page I want to draw your attention to the important role of the coach in the training process.
Good coaching is not only teaching, training, instructing and helping people to learn tennis skills, improve performance and reach their potential, but it is also about recognizing, understanding and providing for the social, emotional and personal needs of the players.
The roles of a tennis coach
A tennis coach has many functions and jobs. All of them contribute to being a successful coach:
Teacher: imparting new knowledge and idea.
Motivator: producing a positive, high quality approach by the player.
Student: listening, learning, thinking for yourself :continual quest for self improvement.
Scientist: analyzing, evaluating and drawing conclusions.
Psychologist: counselling, advising, supporting.
Friend: building a good relationship with the players.
Administrator.
"A successful coach is an important part of training process in order to achieve the goal!"
Detailed training information on the pages: tennis for children and tennis training for adults
My students receive significant discounts on products, more information on the page
About coach    
28 years of coaching experience Tennis coaching
Over the years, my students were:
Vladimir Uzhilovsky (multiple winner of Ukrainian championships, the best ATP ranking 492);
Alexey Belenko (winner of the tournament UTT);
Platon Good (student, playing in the tennis team for the University in the USA);
Maria Hlagola,the champion of Kiev under 14;
Anita Chorney (medalist of tournaments UTT),
Roman Galka,winner of tennis tournaments among amateurs and many other tournament players.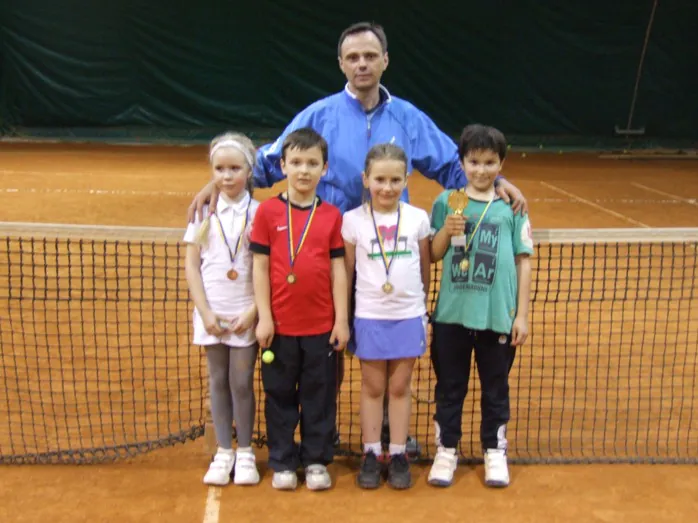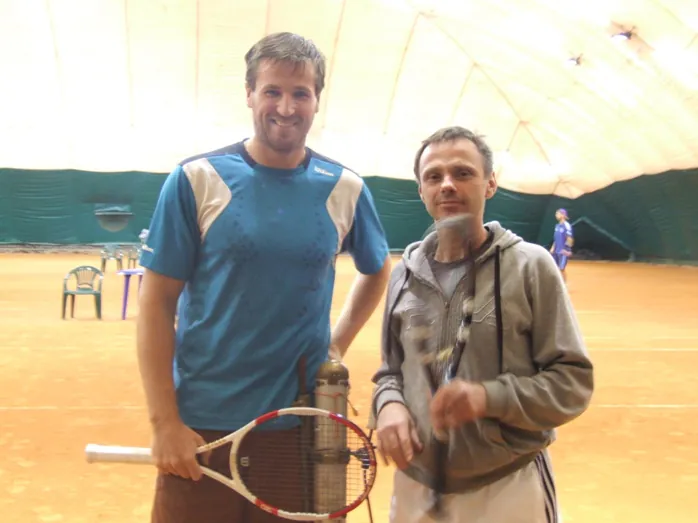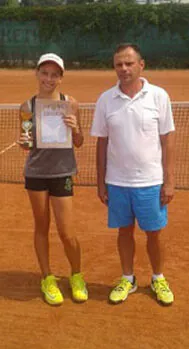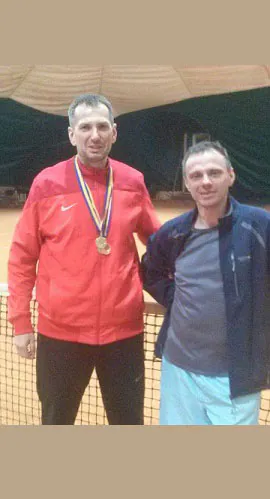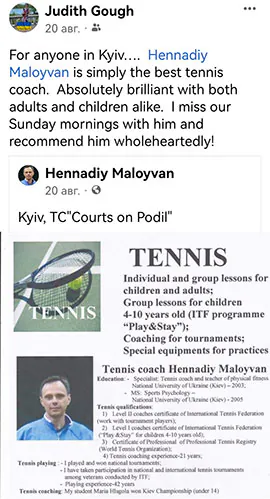 Playing experience-45 years.
I won national tournaments in the former Soviet Union and Ukraine.
My tennis ranking was № 24 among teenagers in the former Soviet Union.
I have taken participation in national and international tennis tournaments among veterans conducted by ITF.
Education
Specialist: Tennis coach and teacher of physical fitness-University of Ukraine- 2003.
MS: Sports Psychology – University of Ukraine – 2005.
Tennis qualifications
Level II coaches certificate of International Tennis Federation(work with tournament players 8-17+ years old)( tutor-examiners were representatives of International Tennis Federation Frank Zlesak(Czech Republic,Hrvoje Zmajic(Croatia).
Level I coaches certificate of International Tennis Federation ("Play Stay" for children 4-10 years old)( tutor-examiners were representatives of International Tennis Federation Sandi Procter(Great Britain),Pirtr Yunirzitskiy(Poland).
Certificate of Professional Tennis Registry(PTR-World Tennis Organization,USA), a tutor-examiners were representatives of PTR Louie Cap(USA).